The Arizona State Sun Devils (5-2, 2-2 in Pac 12) and Washington State Cougars (4-2, 3-0) will meet in Tempe on Saturday night having much to prove.
Mike Leach's program started off the season with two disappointing losses, one an upset at home to Eastern Washington, and the other on the road against Boise State. However, the Cougars have bounced back to win four straight contests, outscoring Stanford and Oregon by a combined 44 points along the way.
The Cougars are surging at just the right time, and will look to carry their trademark offensive scheme and an improved run game to the desert.
Here's what you need to know about Washington State:
Mike Leach's Offense is Sure to Give the Devils Hell
We've seen a number of potent offenses come to Tempe this fall, but none as primed to expose an exhausted Sun Devil defense like Washington State's. Mike Leach has spent years tinkering with and constructing his offense, and this year's team could represent the pinnacle of what he's longed to achieve.
There's a lot that goes into building a comprehensively-sound collegiate offense, and it starts with the big men up front.
The Cougars' offensive line is anchored by massive redshirt-junior left guard Cody O'Connell (6-foot-8, 354 pounds), and the quick redshirt-sophomore left tackle Andre Dillard (who stands at 6-foot-5, 295 pounds). These two Washington State natives lead a line that has not only given junior quarterback Luke Falk adequate time to throw the ball from the pocket, but has also proved to be an elite run blocking unit—a dangerous proposition for a Sun Devil defense that at times seemed incapable of making any meaningful contact with Colorado players between the hashes last week.
Washington State's offensive line improves the offense twofold, the first impact being in the passing game. Leach has created an offensive scheme in which the receivers and offensive coordinators learn to adapt their Air-Raid offense to what the defense is showing them, and if Falk is given all day in the pocket, it could prove devastating to the Sun Devils' defense.
If Washington State's coordinators recognize that ASU defensive coordinator Keith Patterson's unit is lined up in the zone, the Cougars will surely drop their receivers to the flats, the middle, and anywhere they can find gaps in the Sun Devils' scheme.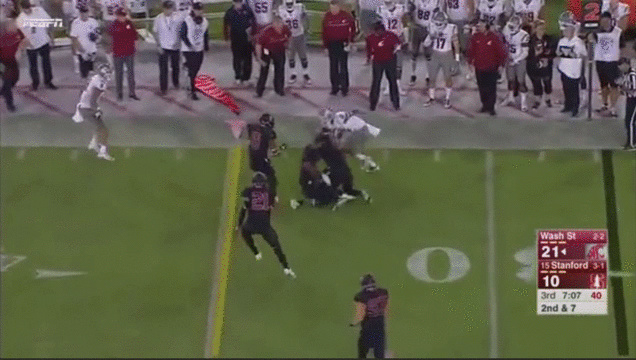 Alternatively, if the Cougars see that ASU has chosen man coverage, they will stick to their assigned routes and test Kareem Orr and either Gump Hayes or Maurice Chandler in coverage. The secondary overall has struggled thus far to contain any Air-Raid offense.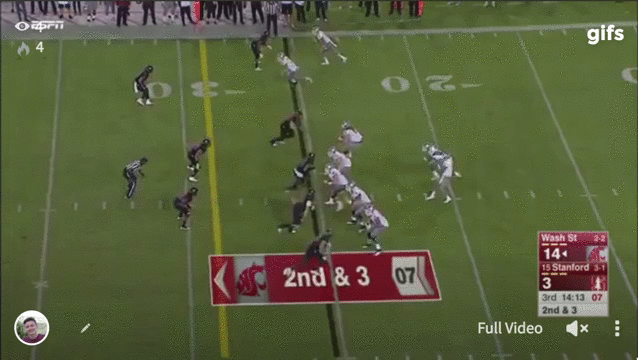 Leach's offense has also evolved in terms of it's ability to incorporate the run game, and the incredible part is, it doesn't require changing the formation.
The Cougars' line has been able to move off the line of scrimmage and block in either direction, allowing the offense to freely run sweep and read-option plays to either side, or simply flip it to one of their talented backs and have the line make blocks downfield.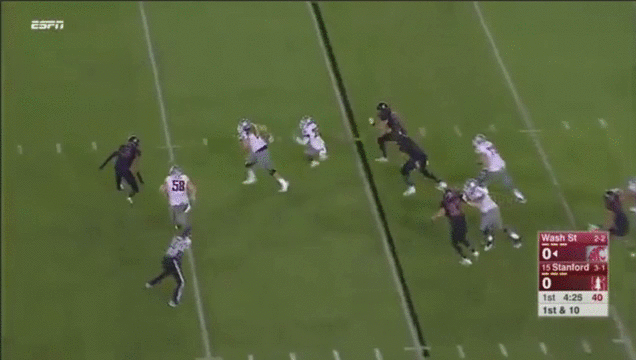 This is why Leach's offense poses such a dangerous threat to the Sun Devils' defense.
The Cougars can line up in the spread with four-wide and either junior running back Jamal Murrow or freshman back James Williams next to Falk. It presents the option of beating ASU down the field, in pockets underneath the zone, with sweeps pushing the worn out defensive line left and right, or—as we saw Saturday in Boulder—right down the middle.
The Cougars Have Everything to Play For
Washington State came into the season with a talented, well-coached roster and projections of making a run for the Pac-12 North title. After starting out the season 0-2, Leach was able to rally his program to four straight wins and the Cougars are finally making noise in the Evergreen State.
With Stanford and Oregon at their weakest in years, and already marked as wins for this Washington State team, it's confident it can beat an ASU team in Tempe for the first time since 2001, and continue the quest to make that November 25th Apple Cup meeting in Pullman, Wash. extra meaningful.