The Arizona State Sun Devils lost to the Washington State Cougars 37-32 on Saturday, marking their first home defeat of the campaign.
Things just haven't seem to break the Sun Devils way through the middle of the year, as injuries managed to have a significant role in what was reflected in the final score.
Below, we get to your reactions to ASU's loss and offer analysis, but before that, we have a dedication to make...
This week's dedication: Fairness
All is fair in love and war.
- John Lyly, Euphues: The Anatomy of Wit (1579)
Of course, if Lyly was referencing the game of American football, there would be an asterisk next to the word "fair."
It's not just Sun Devil Nation that suffers from the injustices of football. They work against all fan bases, including the best (except for maybe Alabama. That program is currently a glitch in the realm of unfairness which appears to be best counteracted by chaos).
While we acknowledge all other teams (sans Alabama) fight this rash of unfairness, let's take a moment to address the instances currently surrounding the Arizona State Sun Devils' program:
The quarterbacks are not healthy.
The offensive line is not healthy.
The linebackers are not healthy.
The secondary is not healthy.
When context is added, it's much more unnerving:
ASU has been forced to turn to a freshman quarterback who wasn't supposed to play this year and clearly is not ready, after two quarterbacks ahead of him suffered significant injuries, and another can't stay healthy.
ASU's offensive line features four new starters, and is without two of those four new projected players.
Arguably the team's most experienced linebacker has been banged up and its most talented hasn't been around all season.
The secondary's best player is a true sophomore who spent the previous year at a different position, and the player starting opposite him is a player who is a converted offensive player with two transfers spelling him.
It's not fair the Sun Devils have to deal with all of this. You know who doesn't care? Head coach Todd Graham, along with his players. The mentality has been always been "next man up," and there's a protruded expectation to not lose a step, even if players fully understand the significance of the loss of a teammate(s) and what it means to their chances as a group.
The game of football is not fair. Sports, generally, are not.
It's what teams are able to overcome circumstances in the midst of injuries, bad calls, etc. which marks the great ones. So, here's some offered positivity for you to take away within this psuedo-philosophy: Your team is still 5-3 when there wasn't any expectation for it to be so, and pushed one of the hottest teams in the conference to the final whistle despite being forced to reach low into the depth chart.
Is there a lot to be fed up with? Absolutely. You should expect the best from your team the same way it does every time it steps out on the field.
But sometimes, things don't break the way they should, or at least the way one would like. And that's okay. Football isn't fair. There's things within a team's power it has full control over, and things it can only allow to unfold.
That's football. That's life. And it's what makes the two so analogous to one another.
Anyways, enough of the rambling. Let's ramble about your ramblings.
Reminder:
Run (with what you're saying) — Pass (on what you're saying) — Option (out of it)
---
They probably would have won with a healthy Manny Wilkins, but the defense does need to step it up. Whether they have run out of talent or are being put in bad schemes, I don't know. (Tim Strange via Facebook)
Option
I agree about having a healthy Wilkins. That alone would've changed the entire outcome of the contest.
However, I personally thought the defense did a pretty good job harassing Luke Falk throughout the contest (even though the stats will say he dismantled the Sun Devils' defense). I would say it's a little of both as far as positioning and talent are concerned. The two go hand-in-hand, but I personally lean towards the personnel being culprit, not necessarily because of a lack of talent, but acclimation and experience.
---
Run
Ah, yes. What could've been. The outcomes against USC, Colorado, and now Washington State have been influenced by key injuries. Would the Sun Devils have a different record? I think so, but who knows.
---
Coaching also needs to step up! You can't keep running the Sparky formation and expect your 4th string QB to keep converting on 3rd and long! (Ricardo Robles via Facebook)
Pass
Fans may have not liked being over-saturated with the Sparky formation, but as I asked many colleagues after the game, what else could you have done successfully if you're ASU? Sterling-Cole wasn't moving the ball consistently through the air on early downs when asked. Running the ball out of the formation—or in general for that matter—was the most effective thing ASU could have done.
Also, six of the Sun Devils' 15 third-down attempts came facing third-and-7 or longer with Sterling-Cole at quarterback, with ASU converting on one (a third-and-13 play on which Sterling-Cole completed a 22-yard pass to N'Keal Harry). So, you're right about expecting that to happen.
---
Yeah, I couldn't tell you, but you're not alone in thinking this.
The Pac-12 has made it a point of improving its officiating, but Sun Devil fans haven't really experienced much good from it.
My argument defending bad officiating (when it favors me) is typically that the team suffering from a horrendous call shouldn't have allowed itself to be in position to be so greatly effected by a miscall in the first place. That argument can be true of the Colorado game (one penalty wasn't gonna save ASU. Sorry.), but the missed pass interference call against Washington State on Harry inside the Washington State 15-yard line with five minutes left in the game, and ASU down eight points, cost ASU a shot at the game.
---
Got back to sun devil football, sacking QBs, creating turnover opportunities, playing clean football, and stopping the run. DSC has some serious arm talent but never got in a rhythm. Crump played out of his mind (DJ and Marcus made some big plays on the QB as well), becoming a great pass rusher. Missed the easy turnover chances unfortunately. Tim White and the punt return team came up with late heroics. I thought the coaches did what they could, but WSU had their way with the quick passes and their QB showed great toughness to pull off the win. Fun game, hope manny and Fiso aren't too badly hurt, proud of the effort just wish the result was different. N'Keal made some great catches tonight too, he has a megatron feel watching him. (Bobby Niiro via Facebook)
Run
Yes, ASU's defense was aggressive—and productive. Credit Falk for taking all of those shots and hanging in there, because the Sun Devils' pass rush, led by Koron Crump, DJ Calhoun and Marcus Ball, did a great job.
The turnover chances (dropped pick by Orr/Adams, whiffed scoop-and-score by Smallwood) hurt them, sure. If Wilkins or Salamo Fiso miss any more significant time, you have to be concerned.
But let's talk about this N'Keal Harry guy.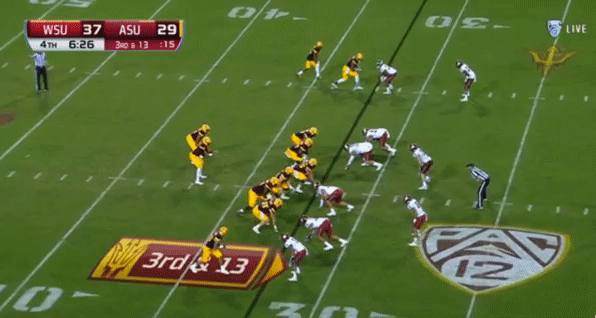 Six catches for 76 yards on 10 targets on Saturday. He's an absolute stud, and he's only scratching the surface of his potential.
---
@kaelenjones The concern is we are most likely finishing 6-6 or worst 5-7. This inspires zero confidence going into 2017.

— rick cares (@CaresRick) October 23, 2016
Pass
Even if they're not at full strength going into Oregon, ASU has a legitimate chance against the Ducks next week. Following that, there's a bye week to get healthy, and a fully healthy Sun Devil team, in my mind, can compete with Utah, beat Arizona, and not get completely smoked by Washington. It's most likely the team finishes 7-5.
---
Championships start with Defense. The first two years of Graham's regime, they had some success with Erickson's players with a high-risk pressure defense. Now, they give up big plays beyond anything I've ever seen at ASU (except Koetter's first couple of years maybe). Everybody that ASU plays has made adjustments, Graham's staff hasn't been able to keep up. He's a solid guy I think, but there's an obvious higher-end limit to him that can't be overcome. Far too many times, especially on nationally-televised games, the players have been embarrassed by and had games lost by coaching mistakes, on both offense and defense. If I was a young player, that would keep me from signing here. That, and the stadium was mostly empty in the 4th qtr last night when ASU still had a good chance to tie the game and maybe win it late or in OT. Going forward keep in mind that it's a talented conference, and people like Mora and Mazzone don't seem to be doing any better, so I don't think you fire Graham unless you have a better idea. That was the mistake they made when they fired Erickson. ASU didn't have a better idea. Voilà. (Cliff Jolly via Facebook)
Run
I will comment on what I know (or what I think I know) here.
Graham benefited from fielding Erickson's players; the lack of talent and experience has hurt him. Graham's staff is almost entirely new (we're seeing the effects of losing defensive backs coach Chris Ball). Graham has managed to wrangle in top-25 recruiting classes since arriving in Tempe, so while it's not the best, I wouldn't be overly concerned with that.
Also, not you specifically, Cliff, but folks can't be upset about empty stands when they're not there (*by choice, when the opportunity for them to be in attendance is there). Yes, keep in mind it's the conference is talented and yes, other bigger programs are 'struggling' too, so don't fire Graham.
---
Run
Say what you want. I'm looking forward to the day I get called a Graham homer, because I keep either defending or praising him here. Anyways, if you didn't think he was a badass for calling Mike Leach out after the game, then I don't know about you. That's real.
---
It looks like our defense is playing with only 10 players. There is always a receiver open downfield or in the flat. It takes our DB's too long to respond, putting them in a place where they might miss those open field tackles. (Chase Hansen via Facebook)
Option
I would say this is a byproduct of modern football and the secondary's struggles. Offenses—the Air Raid in particular—is designed to force defenses to defend the entire field, ensuring there's open receivers in at least one area of the field.
Feels like we're talking about talking every week. Think it's just something folks are going to have to accept for this year.
---
Run
Agreed. It's football, so they're gonna happen, but I think you speak for us all regarding every injury ever.
---
It's a young and injury filled team. We did better then last week and almost won a game every one said we would blow. Losing by 5 points isn't that bad if you look at the big picture. (William Waldron via Facebook)
Run
William is a positive dude. William is smart. Be like William.
---
@kaelenjones Very proud of a team that's collectively limping & competing for wins in what's supposed to be a rebuilding year. Big picture.

— Cole Streeper (@sundevilcole7) October 23, 2016
Run
Cole is a positive dude. Cole is smart. Be like Cole.
Thank you all for you comments.