The Arizona State Sun Devils and Oregon Ducks produced a high-scoring thriller last season when the Ducks came away with a 61-55 triple-overtime victory in Tempe.
This season, Oregon will play host ASU in the middle of an underwhelming campaign in which the Ducks have yet to win a Pac-12 game (2-5 overall, 0-4 in Pac-12). Regardless, although it's been on low power lately, the Oregon offense is still a high-energy machine capable of going toe-to-toe with most offensive units in the country, even in the midst of a quarterback change.
Let's take a look at what the Ducks bring to the table.
Schematics Breakdown
Head Coach: Mark Helfrich
Offense: Spread Option
Key Players: Royce Freeman (No. 21, RB), Justin Herbert (No. 10, QB), Tony Brooks-James (No. 20, RB), Pharaoh Brown (No. 85, TE)
Defense: 4-3 Under
Key Players: Troy Dye (No. 35, LB), Brenden Schooler (No. 43, S), AJ Hotchkins (No. 55, LB)
Overall Breakdown
Oregon Offense
The Oregon offense is to still be respected, even if it isn't as potent as it's been in past seasons (averaging 38.6 points per game).
The Ducks' rushing attack, even without a fully healthy Royce Freeman, ranks first in the conference posting an average of 248.4 yards per game on 5.8 yards per rush as a team. Oregon still runs the ball utilizing variations of inside and outside zone plays, and Herbert is athletic enough for Oregon to trust him in the zone-read game.
In the passing phase, the Ducks focus on attacking the perimeter while incorporating both the screen game as well as vertical-predicated route combinations. Clearout, Smash and even Y-Cross concepts appear to be the most heavily implemented, with either a swing route from the backfield or boundary pattern targeting the flat as a checkdown target.
Oregon's passing game makes use of plenty of backfield action and play fakes. It helps open things up for the Ducks tight ends, a position the Sun Devils haven't had to worry too much about this season.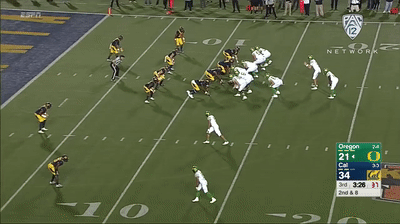 Most importantly, the Ducks' passing attack is predicated on stretching opposing defenses out vertically and horizontally, but the middle of the field isn't abandoned.
Herbert, a freshman, appears to be comfortable in taking over for FCS transfer Dakota Prukop. He's solid throwing on the run, but his overall consistency hasn't been overwhelmingly sharp (as can be expected from a true freshman).
Where ASU defense needs to be careful
The Ducks still have a surplus of playmakers: Freeman, Tony Brooks-James, Charles Nelson, Darren Carrington, and Pharaoh Brown each have big play ability with the ball in their hands.
Last season, the ASU defense ceded 61 total points to Oregon (although it took three overtimes). Even in facing a young quarterback with two starts under his belt, the Sun Devils' defense must play a sound game, fundamentally (i.e. make tackles in space, and play consistently well for 99 percent of the game instead of 90).
Also, while the Sun Devils may enter the contest boasting the conference's best rush defense, it could be without senior linebacker Salamo Fiso, whose presence is key to ASU's run-stopping ability.
Where the ASU defense has the advantage
Todd Graham has, in previous seasons, had success against young quarterbacks. Herbert is talented, but hasn't faced a defense with as aggressive a play-calling style as ASU.
Oregon Defense
The Ducks transitioned from employing a 3-4 base look to a 4-3 this offseason with the hiring of defensive coordinator Brady Hoke, but it hasn't paid off.
The indefinite suspension of senior outside linebacker Torrodney Prevot didn't help a unit already forced to replace star defensive lineman DeForest Buckner, along with several other graduates who were key contributors. The losses have resulted in a very conservative defense, which has conceded a Pac-12 worst 212 first downs to opposing offenses this year.
The Ducks appear physically unable to really dominate opposing offensive lines at the point of attack.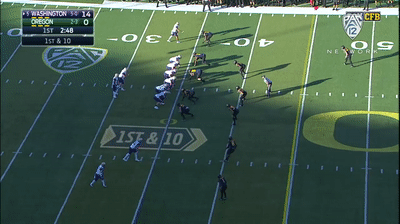 Their conservative approach against the pass has left the Oregon secondary to fend for itself, and it hasn't gone well.
While the group don't appear to concede too many game-changing, home-run passes, there's still many instances of miscommunication on the backend.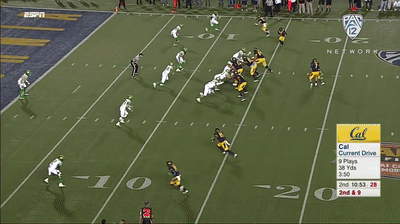 The inability to be varied with alignments and formations (plenty of man coverage from Oregon's defense), along with the group's lack of overall depth is culprit of its struggles (they can also be attributed to the loss of a dominant, scheme-versatile player like Buckner).
Where the ASU offense needs to be careful
There's not much, if anything the ASU offense needs to be fretful of entering this one. Protecting the quarterback may be of high priority for the offensive line, though.
If Manny Wilkins is healthy, and the gameplan incorporates him running the ball, that won't exactly be a choice.
Where the ASU offense has the advantage
Last season, Demario Richard and Kalen Ballage had one of their best joint rushing performances in their career against the Ducks. With the Oregon defense taking a collective step backward, it only means ample opportunity to have similar success this year.
The ASU offensive line is banged up, but Oregon's line struggles to maintain its gaps, and seems to get easily moved off the ball.
The Sun Devils' passing attack has a chance to regain its footing against the the Ducks' secondary too, as only the ASU defense is giving up more passing yards per game.
Games Viewed: Oregon vs. Washington (2016, condensed), Oregon @ Cal (2016, Full)