The first thing Arizona State head coach Todd Graham mentioned when facing UCLA wasn't its star quarterback, but its defense.
Here's how he described the Bruins' unit: "They're a team that's gonna play a lot of man-free. Very strong on the inside, defensively. Like to get after you."
Still, it's no secret that the draw of the UCLA team is it's offense, directed by sophomore Josh Rosen. With plenty of subtractions from last year's explosive unit, what does this year's team feature? We break that and more down in this week's film room session.
Schematics Summary
Head Coach: Jim Mora, Jr.
Offense: Pro-Style, Multiple
Defense: 4-2-5 Base
Overall Breakdown
UCLA Offense
When Mora said his offense would be transitioning to a more pro-style approach in 2016, he meant it.
Under the direction of offensive coordinator Kennedy Polamalu, the UCLA offense has very much resembled an NFL offense, featuring two tight end sets and other various formations. This offensive profile has enabled quarterback Josh Rosen to settle into things despite not having the same type of weapons around that he did last season (most notably Paul Perkins, Thomas Duarte, Devin Fuller and Jordan Payton).
If anyone has told you Rosen isn't as good as last year, tell them to think again. Sure, statistically, he may not appear as explosive, but he's still impressive. As Graham noted Monday: He's what makes the Bruins offense work.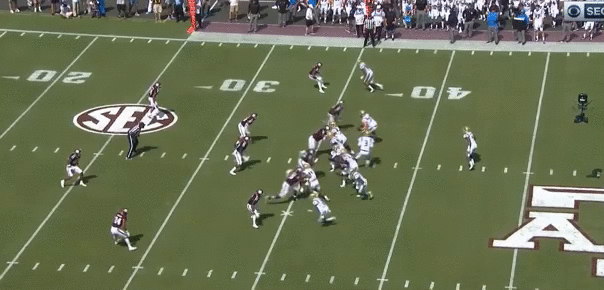 There are other components to respect on this UCLA offense. However, don't be surprised if what's supposed to be considered a film breakdown turns into a Rosen appreciation post.
You've been forewarned. Let's begin.
Where ASU needs to be careful
The reason why Rosen is still completing 60 percent of his passes is because of how great of a decision maker he is. He's razor quick in taking what the defense gives him.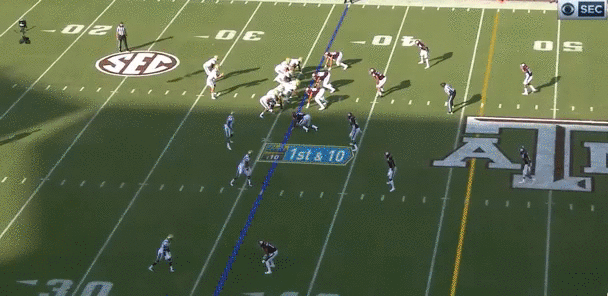 USC quarterback Sam Darnold picked the ASU secondary apart with his quick decision-making, as have a few other quarterbacks this season.
That said, another reason Rosen is so good is because of his patience in the pocket. Unlike Cal's Davis Webb, giving Rosen time in the pocket is a death sentence. The incorporation of multiple-tight end formations is a big reason for that.
Tight ends Nate Iese and Austin Roberts provide Rosen big, safe targets to rely on over the middle of the field. They each can also make something happen after the catch.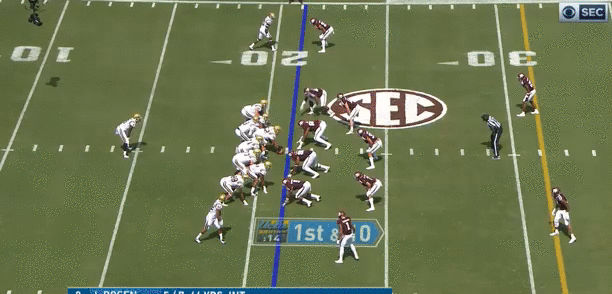 On Monday, Graham said it's the UCLA receivers on the outside that he fears, but I'd argue it's defending the middle of the field—at all three levels—the Sun Devils should be most concerned with ahead of the contest.
The Bruins offense incorporates a gamut of formations both under center and shotgun. As a result, there's multiple route combinations featured in their passing game, but the most consistent thing about it is the use of tight ends as targets over the MOF on patterns that break across the field.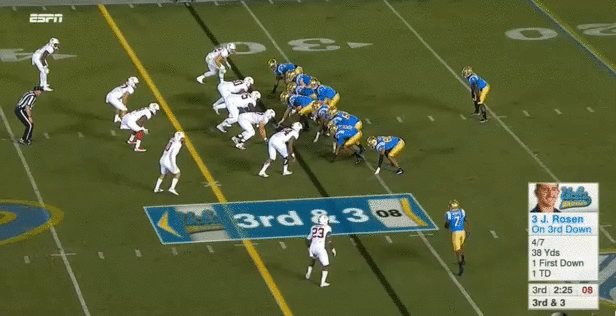 Moreover, the tight ends' role is important because their incorporation keeps defenses honest to stopping the run.
SoSo Jamabo is a talented running back. At 6-foot-3, 210 pounds, he's tough to tackle, and it's well-known how ASU has struggled in that department this year.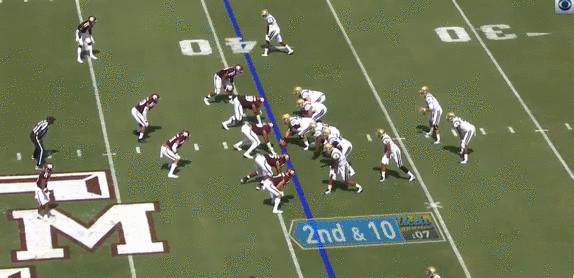 Allowing Jamabo to have a good game could make it a long evening for the Sun Devils.
A potential key to his success could be the use of 294-pound fullback Ainuu Taua, who we learned is pretty good at his job.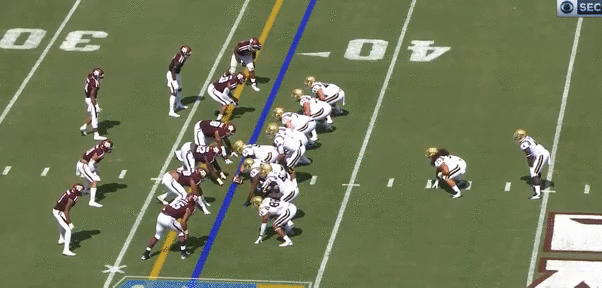 This power-run profile the UCLA offense has maintained throughout the year has helped establish arguably the most important element in the Bruins' offensive attack: the play-action passing game.
Like we said, Rosen likes to take what the defense gives him. He does so at all three phases of the passing game:
Short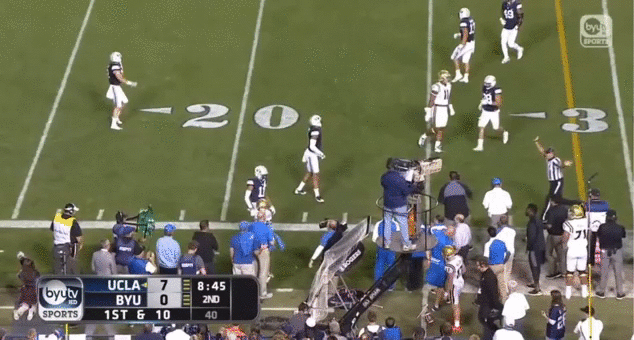 Intermediate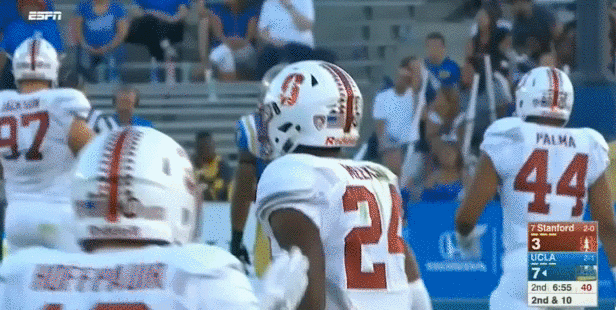 and Deep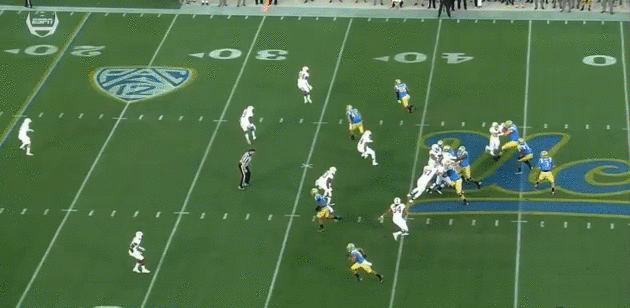 Communication needs to be at its best between the secondary members, too. Rosen is capable of threading the needle whenever he wants to.
In the example above, the linebacker gets caught flat-footed, and Rosen finds his target just as he gets behind him for a long gain.
Polamalu also does a great job of setting up Rosen to work through progressions.
While watching the UCLA passing game, you can notice the three-read system installed to allow Rosen to work through one side of the field with options being provided at all three levels of the field.
In this example, Rosen allows to deep routes to clear out an opening for a crossing Iese over the middle before passing to him. In other situations, he'll check down to his running back out of the backfield, or a receiver on the outside nearest the line of scrimmage.
Either way, Rosen may have a reputation as a gun-slinger, but his decision-making for the most part is superb.
Where ASU has the advantage
USC running back Justin Davis' 100-yard performance may not be encouraging, but ASU's run defense is still good. Don't expect Jamabo to have consistent success up the middle, as the Sun Devils' linebackers do a solid job of filling in gaps.
The other advantage? UCLA's lack of star power. While Graham compared the USC and UCLA offenses to one another, the Bruins are significantly weaker at receiver.
In fact (against Texas A&M and Stanford, especially), the UCLA receivers didn't appear to concentrate consistently enough to make simple catches, botching key plays. ASU had similar luck against California, and while it's certainly not wise to count on that happening again, it's something that could end up factoring into the outcome of the game.
UCLA Defense
So, what's man-free coverage?
Well, let's take a look at the Bruin defense's first play from scrimmage this season against Texas A&M.
UCLA bases its defense out of a 4-2-5 look; four down linemen, two linebackers and five defensive backs. Man-free coverage incorporates a Cover 1 look, with four of the five defensive backs lining up in man coverage, while a free safety lines up in single-high coverage (the strong safety in this play dropped into his coverage right before the ball was snapped).
The four down linemen are responsible for generating pressure at the line of scrimmage. Meanwhile, the linebackers are responsible for directing plays a certain way. This is called funneling when facing a multi-back set and fiddling when facing a singleback formation.
Here's an example of this technique proving successful against the run.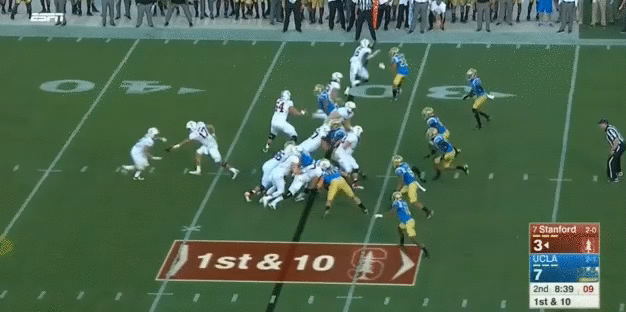 However, the technique can also backfire, particularly when running backs are cutting back in a different direction than the linebackers flowed.
That, or a simple overflow from the linebackers can lead to a running back rushing through a clean lane, as in the example here: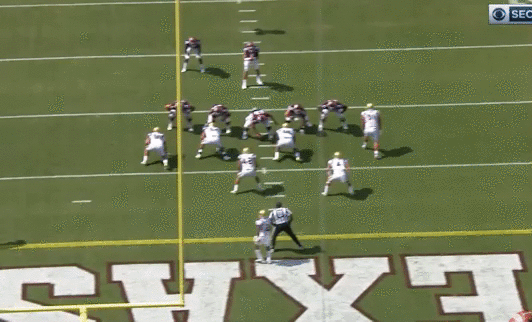 In order to play this type of aggressive defense, a team must have a disciplined secondary. It just so happens the Bruins secondary is coached very, very well.
When Todd Graham described the unit as physical, I hadn't realized just what he meant until I sat down and really watched the UCLA offense operate. The Bruins' cornerbacks are extremely physical with opposing wideouts on the outside, pressing at the line of scrimmage and redirecting routes when in man coverage.
It felt as though—particularly against both Texas A&M and Stanford—the UCLA corners took away any quick slants or short inside-breaking patterns, anticipating when quarterbacks would target their man.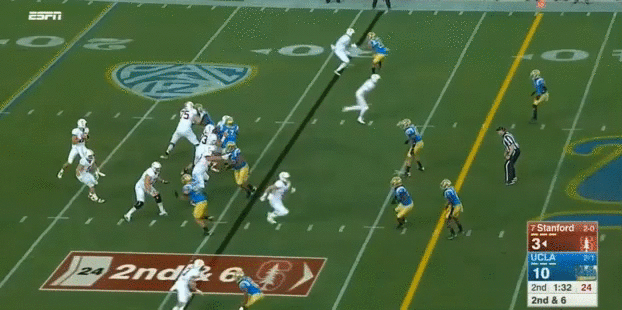 Likewise, what really stood out was how the secondary hounds the football in the air both in the intermediate and deep phases of the passing game.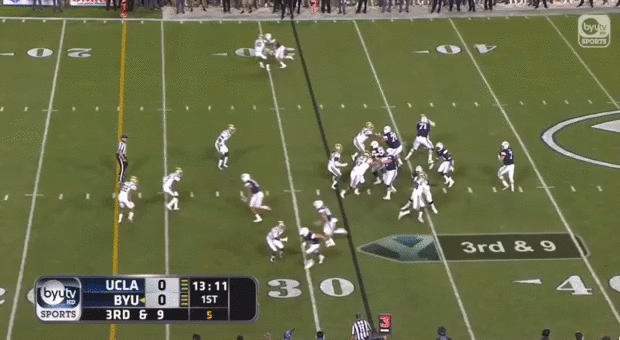 Rarely are there uncontested catches against the UCLA secondary.
There is a noticeable effort the Bruins defenders make to attack the ball and make it as difficult as possible for receivers to haul passes in. Most of the big plays, I believe, came as a result of busted coverage and/or missed assignments.
Where ASU needs to be careful
As aforementioned, the UCLA secondary is pretty tough. Assuming Manny Wilkins isn't ready to go this week, Brady White would be making his first career start.
While Graham is bullish of the redshirt-freshman, letting him attack this secondary doesn't seem like the wisest idea. At least, not after looking at the limited success teams managed to have against it (UCLA pass defense enters ranked third in Pac-12, allowing 186 yards per game).
The front four of UCLA is also dangerous. This despite the Bruins appearing particularly conservative defensively, often only rushing four or five defenders.
Eddie Vanderdoes is impressive, and offers pressure from the interior. Takkarist McKinley is also a player to watch at defensive end, as well as Deon Hollins, who UCLA seems to be using as a third-down pass-rushing specialist this season.
Where ASU has the advantage
As the game wears on, so does the UCLA defensive line, as talented as it is. The opposite can be said of the ASU offensive line, which grows stronger as the game progresses.
While Graham noted the interior of the defense is a strength of the Bruins defense, it also faltered later in games, allowing runs up the middle it was stopping early on in the contest to go for big gains. The Sun Devils should be able to lean heavily on their rushing attack to come through late in the game, should they stick to the gameplan they've used through the first four games.
Although Stanford implements a more pro-style look offensively, it used tight end Dalton Schultz to help create rushing lanes for running backs Christian McCaffrey and Bryce Love to run through against UCLA. A similar contribution can be expected of Kody Kohl and Raymond Epps for ASU, as the two have contributed well as run blockers this season.
Another advantage is the misdirection game. Though UCLA's defense is very disciplined, offensive coordinator Chip Lindsey is known for utilizing gadget plays and misdirection. It wouldn't surprise me to see more trickery used, especially with a greener quarterback under center.
Games Viewed: UCLA @ Texas A&M (2016, Full), UCLA @ BYU (2016, condensed), UCLA vs. Stanford (2016, Full)